As an anal­gesic-asthma sufferer and sali­cylate into­le­rant woman who never used to leave the house without makeup, it was a shock to realize that all cosmetic products usually contained sali­cylates and could there­fore trigger symptoms. Not just once did I suffer from swel­ling of the eyelids and/or lips because I felt I had to test whether this or that makeup really caused me problems because it contained sali­cylates. So I think it's important to share my expe­ri­ence and explain how I prepare my make up.
There are some makeup formu­la­tions that do not contain sali­cylates, espe­cially if they are mineral foun­da­tions. However, the latter some­times contain irri­t­ants that can cause allergic reac­tions, such as bismuth oxychlo­ride. Luckily, there are manu­fac­tu­rers like Lily Lolo that produce foun­da­tions that do not contain them.
I am spon­sored by * none * of the named cosmetic compa­nies, espe­cially Lily­Lolo, but just want to share my expe­ri­ences so that they might help someone. In the case of skin dise­ases, aller­gies and into­le­rances, I always ask you to do your own rese­arch and, if necessary, to consult medical staff if you are unsure. Thank you, your Lisa.
Subs­tances in makeup that are not tole­rated by people with sali­cylate intolerance
Sali­cylic acid is not only used in higher doses in creams against skin blemishes or for callus removal, but it is also contained as a preser­va­tive in many cosme­tics. Even so-called "organic cosme­tics", which do not use indus­tri­ally produced preser­va­tives, are often not an alter­na­tive for people with sali­cylate into­le­rance, because they very often use sali­cylic acid as their main preser­va­tive, which is natu­rally contained in plant extracts.
Like­wise, in addi­tion to plant extracts, oils that are very high in sali­cylate, such as olive or coconut oil, are often included in organic products and can also trigger symptoms.
Often, sali­cylate into­le­rance, or NSAID into­le­rance, occurs in the context of Samter's disease (AERD) with the main symptoms of the dise­ases being asthma and the forma­tion of nasal polyps. Not too infre­quently though, sali­cylate into­le­rance is seen in poeple with mast cell acti­va­tion syndrome (MCAS) or it is paired with other allergic symptoms as well as fragrance into­le­rance, so: the fewer and the less irri­ta­ting the ingre­dients, the better.
The Solu­tion? The Ingre­dients of Mineral Foun­da­tions in Detail
If you're looking into irri­tant-free cosme­tics that are as unscented as possible, sooner or later you'll come across mineral-based loose foun­da­tions, which are usually unscented and are made of mineral parti­cles that in most cases don't trigger allergic reac­tions. However, the liquid mineral makeup formu­la­tions often contain oils and subs­tances that may cause problems.
But there is often a catch with mineral-based powders/cosmetics: They contain the subs­tance bismuth oxychlo­ride / CI 77163, which has a repu­ta­tion for being able to trigger allergic reac­tions due to its parti­cular crystal­line structure.
Although the FDA consi­ders the subs­tance unpro­ble­matic in small doses as an addi­tive in cosme­tics [1], if alter­na­tives are avail­able, these should usually be preferred. In an in vitro study, human kera­ti­no­cytes, horn forming cells of the upper skin layer, were exposed to bismuth oxychlo­ride in nano form and the rese­ar­chers were able to demons­trate cell toxic effects caused by this subs­tance. However, since makeup does not usually contain nano­par­ti­cles, this result should not be over­stated [2].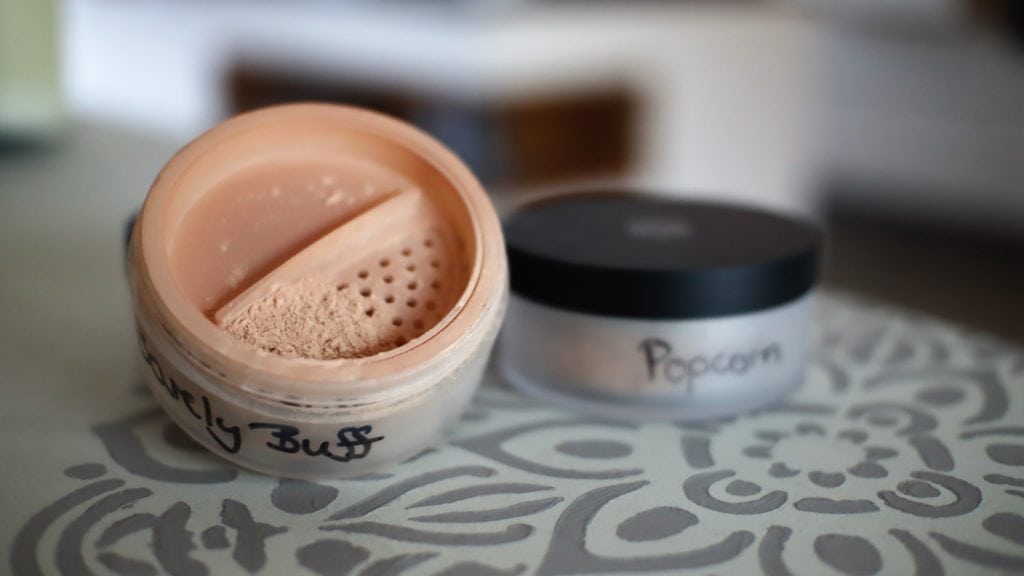 Expe­ri­ences with mineral-based foundations
Pros
Mineral foun­da­tions usually don't have a scent and consist of only a few ingre­dients. Often, among other things, zinc oxide is included, which can have a bene­fi­cial effect on skin blemishes and is also a natural sun protec­tion factor (SPF). Various iron pigments are then used to color the powder, which are also usually tole­rated by sensi­tive people.
The company Lily Lolo does not use bismuth oxychlo­ride in its formu­la­tions and provides many beau­tiful nuances for diffe­rent skin tones. To find the optimal shade for one's own skin tone, the loose powder foun­da­tions are very easy to mix, which I like to take advan­tage of: depen­ding on the season, I mix "Barely Buff" and "Popcorn" in the ratio that suits me. [I added the lette­ring on the powder cans so I don't mix them up 😉 So normally the powder cans come without any scribbly handwriting…]
Cons
Using mineral-based foun­da­tions is a comple­tely diffe­rent expe­ri­ence than oil-based organic cosme­tics or sili­cone- and paraben-contai­ning normal cosmetic formu­la­tions. It is a loose powder that is best applied with a dense kabuki brush. (You really have to invest in some good brushes, other­wise you will make yourself unhappy.)
And yes, unfor­tu­n­a­tely the loose powder tends to settle into wrinkles — no need to sugar coat that either. Espe­cially when it comes to wrinkles around the eyes, mineral powder can tend to make them a bit more pronounced over the course of the day.
As a former wearer of 24h makeup (my "MCAS self" shakes her head), I just have to say that mineral foun­da­tions don't come close to long-lasting 24H formu­la­tions, espe­cially when swea­ting, but I was still amazed at how well they held up.
The zinc oxide in these powders can help against shine and oily skin, but this can also turn into an disad­van­tage as they unfor­tu­n­a­tely can lead to skin dryness and the feeling of tigh­tened skin.
| | |
| --- | --- |
| Pros of Mineral Foun­da­tions (powder) | Cons of Mineral Foun­da­tions (powder) |
| Less ingre­dients + no scent | Getting used to applying it correctly |
| Econo­mical in consumption | More expen­sive to buy |
| Many diffe­rent nuances + easy to mix | Can pronounce some wrinkles |
| Natural SPF | Not long-lasting when sweating |
| Reduces shine and oiliness | Can increase skin dryness |
| Can help with blemishes | |
Testing the tole­rance of mineral makeup in sali­cylate into­le­rance and MCAS.
Case 1: My personal experience
I was very happy that I found a makeup I could tole­rate — given my sali­cylate into­le­rance and MCAS. I had already gotten into the habit of being comple­tely without makeup, but the skin simply looks more even with makeup and you can conceal the dark circles or redness, so I missed wearing make-up to "soften" those little imper­fec­tions very much in that time.
I don't have to deal with skin blemishes apart from medi­ca­tion-induced ones (steroid acne anyone?!). I also do not suffer from dry skin, although I have noticed that these powders can dry out the skin more easily.
Because I sweat rather quickly and shine, I addi­tio­nally apply a finis­hing powder (SPF 25 Mineral Veil powder — without bismuth oxchlo­ride) over my mineral foun­da­tion from Lily Lolo, espe­cially in summer.
The finis­hing powder has an even higher SPF than Lily Lolo's Mineral Foun­da­tion (SPF 15), which is also great for me because of my photo­sen­si­ti­vity. However, without me applying suncream before using the mineral-based foun­da­tion, I would probably be struggling more with feelings of tight­ness or dryness.
Case 2: A good friend's expe­ri­ence with sali­cylate into­le­rance and MCAS
One of my best friends also suffers from sali­cylate sensi­ti­vity and MCAS. She is in her early 20s and has signi­fi­cantly more problems with skin blemishes. Aside from allergic reac­tions, many cosme­tics worsen her skin condi­tion. In her case, the use of Lily Lolo powders has led to an impro­ve­ment in her skin's appearance and she is very happy that she can cover the blemishes and redness.
Case 3: Expe­ri­ence of a patient with MCAS
One of my pati­ents who suffers from a pronounced form of MCAS has also tried the Lily Lolo Foun­da­tions. She is now in her mid-40s and comp­lained about the powder's ability to settle into wrinkles under the eyes, naso­la­bial lines and other areas when applied (too) liber­ally. However, the tole­ra­bi­lity of the powder was also good in this case allergy-wise.
However, she tends to have very sensi­tive, dry skin and she found the makeup unplea­sant and rather irri­ta­ting to the skin when applied frequently. For ever­yday wear, the powder is there­fore not working in her case.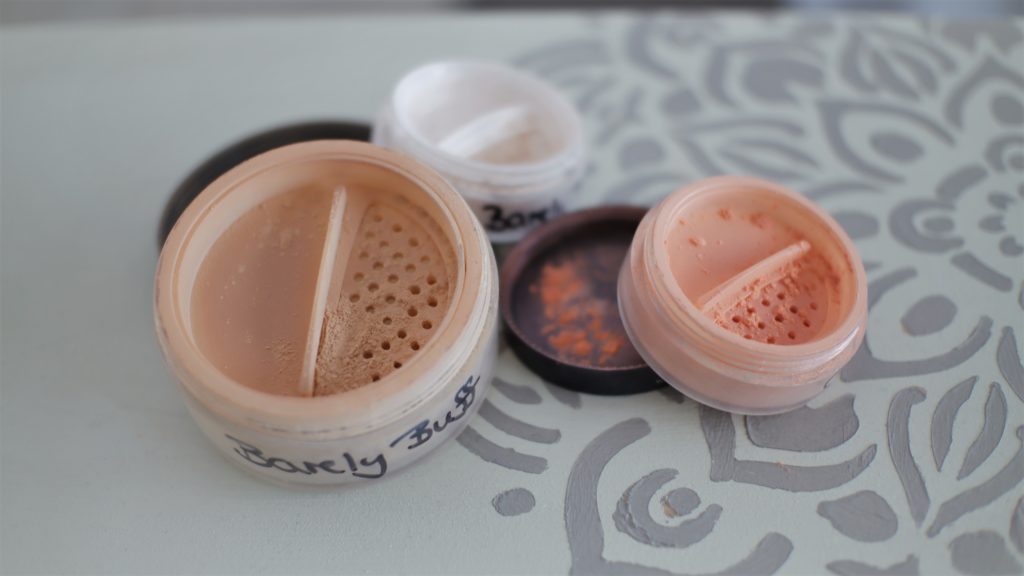 Conclu­sion
Despite the limi­ta­tions mentioned above, mineral foun­da­tions can be an alter­na­tive for people with sali­cylate into­le­rance, MCAS or fragrance into­le­rance. Lily Lolo's products are often a bit cheaper compared to BareMinerals.
I use the following combi­na­tion with these ingre­dients (as of January 2021). In any case, please check if the compo­si­tion has changed and if so, feel free to let me know here in the comments. Thank you!
As makeup: Mineral Foun­da­tion by Lily Lolo — I use the colors "Popcorn" and "Barely Buff" for my fairer skin.
Ingre­dients: MICA, ZINC OXIDE [+/- CI 77891 (TITA­NIUM DIOXIDE), CI 77492 (IRON OXIDE), CI 77491 (IRON OXIDE), CI 77499 (IRON OXIDE)]
As a finis­hing powder (espe­cially in summer): SPF 25 Mineral Veil by BareMi­ne­rals
Ingre­dients: Zea Mays(Corn) Starch, Corn Starch Modi­fied, Tita­nium Dioxide (CI 77891), Zinc Stea­rate, Silica, Magne­sium Stea­rate. (+/-): Iron Oxides (CI 77491, CI 77492, CI 77499).
As concealer: Mineral Concealer by Lily Lolo — I use the color "Barely Beige" for my lighter skin.
Ingre­dients: KAOLIN, ZINC OXIDE [+/- CI 77891 (TITA­NIUM DIOXIDE), CI 77492 (IRON OXIDE), CI 77491 (IRON OXIDE), CI 77499 (IRON OXIDE)]
As blush: Mineral Blush by Lily Lolo — I use the color "Cherry Blossom"
Ingre­dients: MICA [+/- CI 77491 (IRON OXIDE), CI 77492 (IRON OXIDE), CI 77891 (TITA­NIUM DIOXIDE), CI 75470 (CARMINE)
Is there any suitable non-mineral makeup for sali­cylate intolerance?
I have not found any option so far: If the loose formu­la­tions are not tole­rated, perhaps the "creame" formu­la­tions of the mineral makeups might be some­thing. These tend to have less tendency to settle, keep the skin smoother, and can be applied like "normal" makeup. However, they usually contain a wide variety of sili­cones. Whether you want that is a matter of personal prefe­rence. Sili­cones also contain no sali­cylates and have long been used in the medical and cosme­tics industries.
Luckily mineral-based products from compa­nies like Lily Lolo or BareMi­ne­rals are due to incre­a­sing poplu­la­rity now avail­able in many diffe­rent coun­tries all over the world.
Refe­rences
[1] U.S. Food & Drug Admi­nis­tra­tion (Info April, 2020): https://www.accessdata.fda.gov/scripts/cdrh/cfdocs/cfcfr/CFRSearch.cfm?fr=73.2162&SearchTerm=bismuth%20oxychloride
[2] Gao X, Zhang X, Wang Y, Wang Y, Peng S, Fan C. An in vitro study on the cyto­to­xi­city of bismuth oxychlo­ride nano­s­heets in human HaCaT kera­ti­no­cytes. Food Chem Toxicol. 2015;80:52–61. doi:10.1016/j.fct.2015.02.018
[simple-author-box]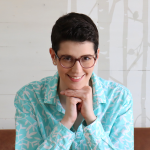 Natur­o­path, hypno­the­ra­pist, owner of an immune system gone crazy with various auto­im­mune special effects. She likes reading through medical papers and is an avid learner of all things regar­ding the human immune system. When her joints and body allow it: enthu­si­astic do-it-your­selfer around the house.
Immunoloco unterstützen
immunoloco möchte Betroffenen kostenlos gute und hilfreiche Informationen rund um ein verrücktes Immunsystem bieten. Du findest das gut? Dann unterstütze immunoloco und meine Arbeit doch gerne durch eine kleine Spende.