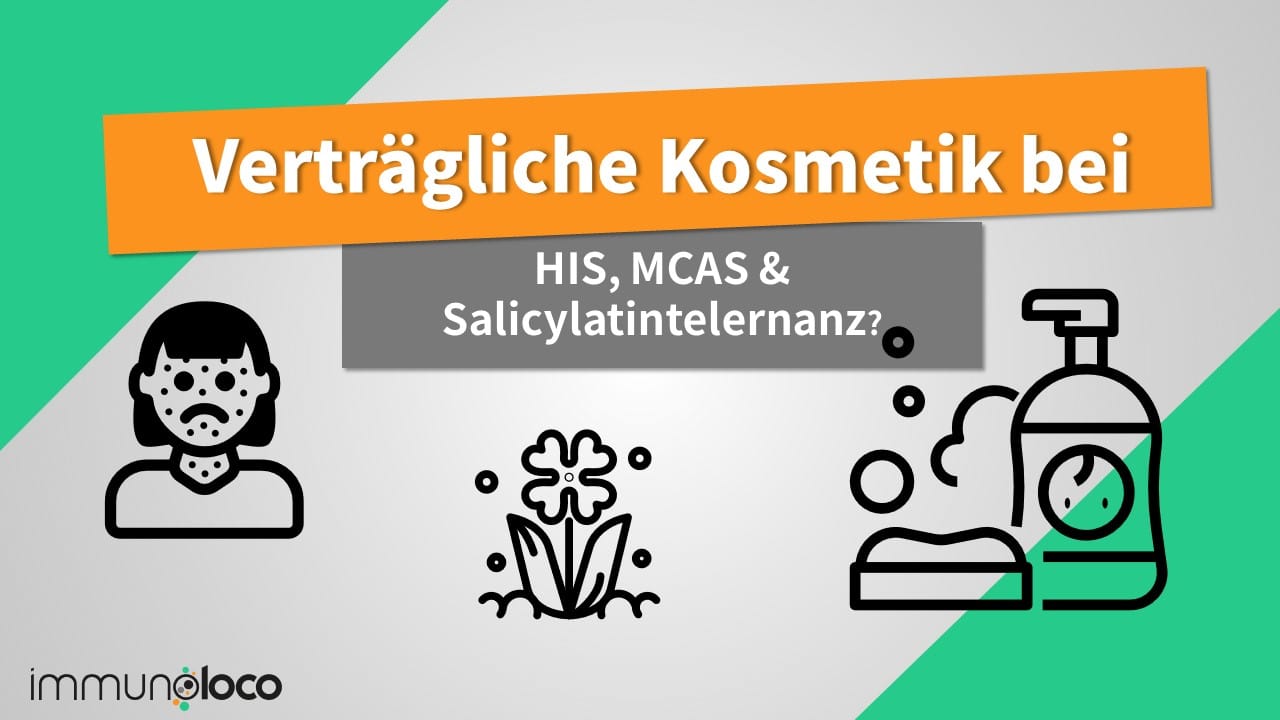 As an analgesic-asthma sufferer and salicylate intolerant woman who never used to leave the house without makeup, it was a shock to realize that all cosmetic products usually contained salicylates and could therefore trigger symptoms. Not just once did I suffer from swelling of the eyelids and/or lips because I felt I had to test whether this or that makeup really caused me problems because it contained salicylates. So I think it's important to share my experience and explain how I prepare my make up.
There are some makeup formulations that do not contain salicylates, especially if they are mineral foundations. However, the latter sometimes contain irritants that can cause allergic reactions, such as bismuth oxychloride. Luckily, there are manufacturers like Lily Lolo that produce foundations that do not contain them.
I am sponsored by * none * of the named cosmetic companies, especially LilyLolo, but just want to share my experiences so that they might help someone. In the case of skin diseases, allergies and intolerances, I always ask you to do your own research and, if necessary, to consult medical staff if you are unsure. Thank you, your Lisa.
Substances in makeup that are not tolerated by people with salicylate intolerance
Salicylic acid is not only used in higher doses in creams against skin blemishes or for callus removal, but it is also contained as a preservative in many cosmetics. Even so-called "organic cosmetics", which do not use industrially produced preservatives, are often not an alternative for people with salicylate intolerance, because they very often use salicylic acid as their main preservative, which is naturally contained in plant extracts.
Likewise, in addition to plant extracts, oils that are very high in salicylate, such as olive or coconut oil, are often included in organic products and can also trigger symptoms.
Often, salicylate intolerance, or NSAID intolerance, occurs in the context of Samter's disease (AERD) with the main symptoms of the diseases being asthma and the formation of nasal polyps. Not too infrequently though, salicylate intolerance is seen in poeple with mast cell activation syndrome (MCAS) or it is paired with other allergic symptoms as well as fragrance intolerance, so: the fewer and the less irritating the ingredients, the better.
The Solution? The Ingredients of Mineral Foundations in Detail
If you're looking into irritant-free cosmetics that are as unscented as possible, sooner or later you'll come across mineral-based loose foundations, which are usually unscented and are made of mineral particles that in most cases don't trigger allergic reactions. However, the liquid mineral makeup formulations often contain oils and substances that may cause problems.
But there is often a catch with mineral-based powders/cosmetics: They contain the substance bismuth oxychloride / CI 77163, which has a reputation for being able to trigger allergic reactions due to its particular crystalline structure.
Although the FDA considers the substance unproblematic in small doses as an additive in cosmetics [1], if alternatives are available, these should usually be preferred. In an in vitro study, human keratinocytes, horn forming cells of the upper skin layer, were exposed to bismuth oxychloride in nano form and the researchers were able to demonstrate cell toxic effects caused by this substance. However, since makeup does not usually contain nanoparticles, this result should not be overstated [2].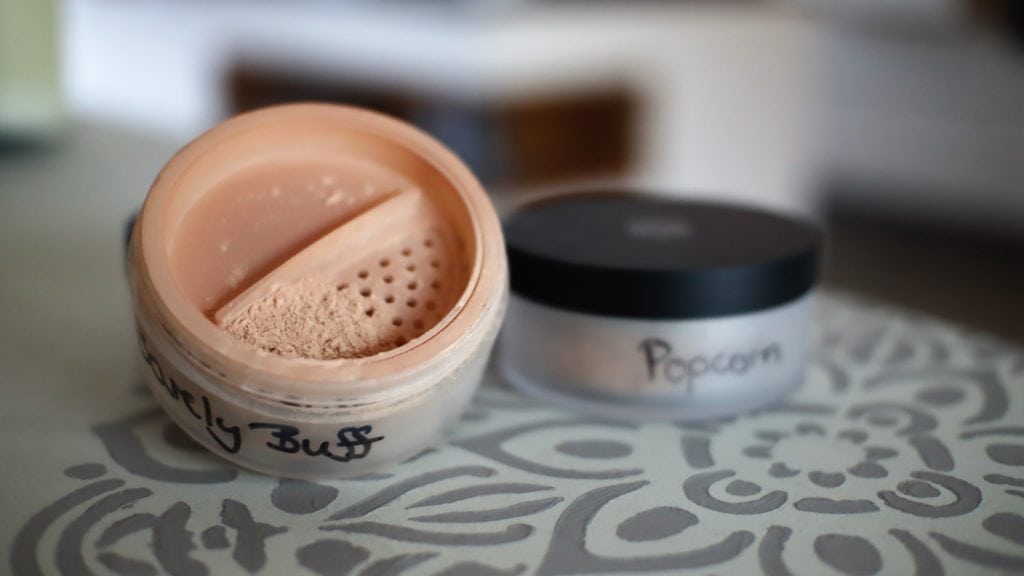 Experiences with mineral-based foundations
Pros
Mineral foundations usually don't have a scent and consist of only a few ingredients. Often, among other things, zinc oxide is included, which can have a beneficial effect on skin blemishes and is also a natural sun protection factor (SPF). Various iron pigments are then used to color the powder, which are also usually tolerated by sensitive people.
The company Lily Lolo does not use bismuth oxychloride in its formulations and provides many beautiful nuances for different skin tones. To find the optimal shade for one's own skin tone, the loose powder foundations are very easy to mix, which I like to take advantage of: depending on the season, I mix "Barely Buff" and "Popcorn" in the ratio that suits me. [I added the lettering on the powder cans so I don't mix them up 😉 So normally the powder cans come without any scribbly handwriting…]
Cons
Using mineral-based foundations is a completely different experience than oil-based organic cosmetics or silicone- and paraben-containing normal cosmetic formulations. It is a loose powder that is best applied with a dense kabuki brush. (You really have to invest in some good brushes, otherwise you will make yourself unhappy.)
And yes, unfortunately the loose powder tends to settle into wrinkles — no need to sugar coat that either. Especially when it comes to wrinkles around the eyes, mineral powder can tend to make them a bit more pronounced over the course of the day.
As a former wearer of 24h makeup (my "MCAS self" shakes her head), I just have to say that mineral foundations don't come close to long-lasting 24H formulations, especially when sweating, but I was still amazed at how well they held up.
The zinc oxide in these powders can help against shine and oily skin, but this can also turn into an disadvantage as they unfortunately can lead to skin dryness and the feeling of tightened skin.
| | |
| --- | --- |
| Pros of Mineral Foundations (powder) | Cons of Mineral Foundations (powder) |
| Less ingredients + no scent | Getting used to applying it correctly |
| Economical in consumption | More expensive to buy |
| Many different nuances + easy to mix | Can pronounce some wrinkles |
| Natural SPF | Not long-lasting when sweating |
| Reduces shine and oiliness | Can increase skin dryness |
| Can help with blemishes | |
Testing the tolerance of mineral makeup in salicylate intolerance and MCAS.
Case 1: My personal experience
I was very happy that I found a makeup I could tolerate — given my salicylate intolerance and MCAS. I had already gotten into the habit of being completely without makeup, but the skin simply looks more even with makeup and you can conceal the dark circles or redness, so I missed wearing make-up to "soften" those little imperfections very much in that time.
I don't have to deal with skin blemishes apart from medication-induced ones (steroid acne anyone?!). I also do not suffer from dry skin, although I have noticed that these powders can dry out the skin more easily.
Because I sweat rather quickly and shine, I additionally apply a finishing powder (SPF 25 Mineral Veil powder — without bismuth oxchloride) over my mineral foundation from Lily Lolo, especially in summer.
The finishing powder has an even higher SPF than Lily Lolo's Mineral Foundation (SPF 15), which is also great for me because of my photosensitivity. However, without me applying suncream before using the mineral-based foundation, I would probably be struggling more with feelings of tightness or dryness.
Case 2: A good friend's experience with salicylate intolerance and MCAS
One of my best friends also suffers from salicylate sensitivity and MCAS. She is in her early 20s and has significantly more problems with skin blemishes. Aside from allergic reactions, many cosmetics worsen her skin condition. In her case, the use of Lily Lolo powders has led to an improvement in her skin's appearance and she is very happy that she can cover the blemishes and redness.
Case 3: Experience of a patient with MCAS
One of my patients who suffers from a pronounced form of MCAS has also tried the Lily Lolo Foundations. She is now in her mid-40s and complained about the powder's ability to settle into wrinkles under the eyes, nasolabial lines and other areas when applied (too) liberally. However, the tolerability of the powder was also good in this case allergy-wise.
However, she tends to have very sensitive, dry skin and she found the makeup unpleasant and rather irritating to the skin when applied frequently. For everyday wear, the powder is therefore not working in her case.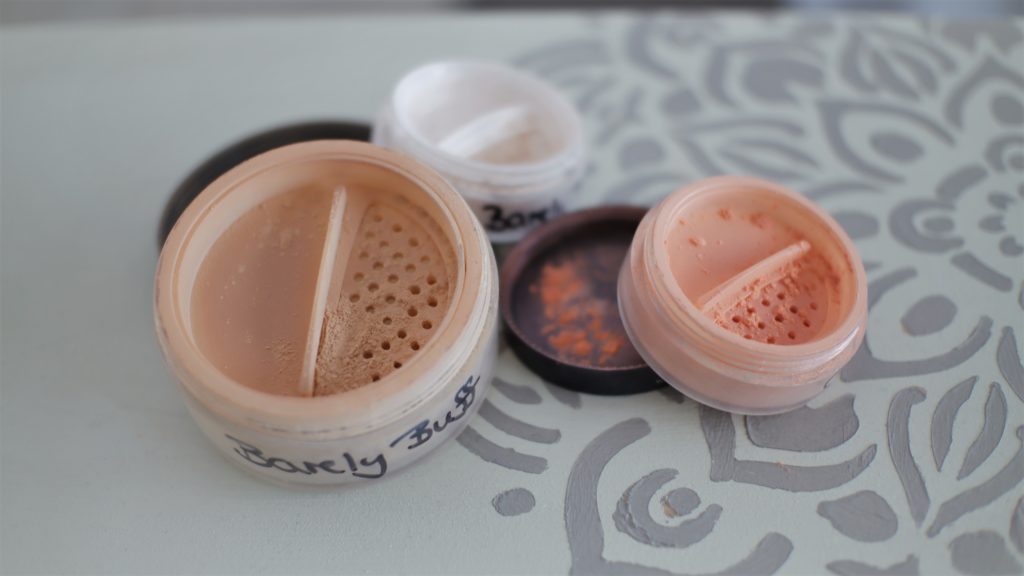 Conclusion
Despite the limitations mentioned above, mineral foundations can be an alternative for people with salicylate intolerance, MCAS or fragrance intolerance. Lily Lolo's products are often a bit cheaper compared to BareMinerals.
I use the following combination with these ingredients (as of January 2021). In any case, please check if the composition has changed and if so, feel free to let me know here in the comments. Thank you!
As makeup: Mineral Foundation by Lily Lolo — I use the colors "Popcorn" and "Barely Buff" for my fairer skin.
Ingredients: MICA, ZINC OXIDE [+/- CI 77891 (TITANIUM DIOXIDE), CI 77492 (IRON OXIDE), CI 77491 (IRON OXIDE), CI 77499 (IRON OXIDE)]
As a finishing powder (especially in summer): SPF 25 Mineral Veil by BareMinerals
Ingredients: Zea Mays(Corn) Starch, Corn Starch Modified, Titanium Dioxide (CI 77891), Zinc Stearate, Silica, Magnesium Stearate. (+/-): Iron Oxides (CI 77491, CI 77492, CI 77499).
As concealer: Mineral Concealer by Lily Lolo — I use the color "Barely Beige" for my lighter skin.
Ingredients: KAOLIN, ZINC OXIDE [+/- CI 77891 (TITANIUM DIOXIDE), CI 77492 (IRON OXIDE), CI 77491 (IRON OXIDE), CI 77499 (IRON OXIDE)]
As blush: Mineral Blush by Lily Lolo — I use the color "Cherry Blossom"
Ingredients: MICA [+/- CI 77491 (IRON OXIDE), CI 77492 (IRON OXIDE), CI 77891 (TITANIUM DIOXIDE), CI 75470 (CARMINE)
Is there any suitable non-mineral makeup for salicylate intolerance?
I have not found any option so far: If the loose formulations are not tolerated, perhaps the "creame" formulations of the mineral makeups might be something. These tend to have less tendency to settle, keep the skin smoother, and can be applied like "normal" makeup. However, they usually contain a wide variety of silicones. Whether you want that is a matter of personal preference. Silicones also contain no salicylates and have long been used in the medical and cosmetics industries.
Luckily mineral-based products from companies like Lily Lolo or BareMinerals are due to increasing poplularity now available in many different countries all over the world.
References
[1] U.S. Food & Drug Administration (Info April, 2020): https://www.accessdata.fda.gov/scripts/cdrh/cfdocs/cfcfr/CFRSearch.cfm?fr=73.2162&SearchTerm=bismuth%20oxychloride
[2] Gao X, Zhang X, Wang Y, Wang Y, Peng S, Fan C. An in vitro study on the cytotoxicity of bismuth oxychloride nanosheets in human HaCaT keratinocytes. Food Chem Toxicol. 2015;80:52-61. doi:10.1016/j.fct.2015.02.018
[simple-author-box]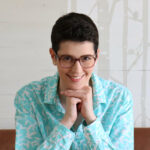 Heilpraktikerin in eigener Praxis, Hypnosetherapeutin, Besitzerin eines verrückten Immunsystems mit autoimmunen Spezialeffekten, die sie nach ihrem Studium mit ebensolcher Hingabe medizinische anstatt wirtschaftswissenschaftlicher Abhandlungen wälzen lassen. Wenn ihre Gelenke und Mastzellen es zulassen: begeisterte Heimwerkerin
Immunoloco unterstützen
immunoloco möchte Betroffenen kostenlos gute und hilfreiche Informationen rund um ein verrücktes Immunsystem bieten. Du findest das gut? Dann unterstütze immunoloco und meine Arbeit doch gerne durch eine kleine Spende.